3 Tips for Identifying and Retaining Strong Medical Directors
Selecting and Supporting Clinical Leaders Who Fit Your Program
Exceptional Medical Directors are a not-so-secret sauce that power any well-oiled clinical program. They are a unique breed; equal parts clinical stand-out, skillful communicator, strategic thinker, and thoughtful mentor. At Concord, Medical Directors have been integral to our success for more than 20 years. First-class leaders ensure patient care quality is high, hospital metrics and clinical documentation are optimal, and provider teams are engaged and fulfilled. In this post, we share the proven best practices our team relies on to identify and retain our strongest Medical Directors.
1. Refine your Recruiting Approach  
The importance of a solid Medical Director is never felt as much as when one is lacking. When leading any clinical program, implementing a strong leader is always priority one. Below are key details we prioritize when recruiting Medical Directors:
Hospital-Specific Needs: Seek medical directors who not only meet basic requirements (like years of experience or board certification), but also fit the unique culture of the hospital. Every hospital serves different patient populations and has its own internal team dynamics. Each of these factors impact the day-to-day role of the medical director. Beyond that, the physical location of the hospital influences the medical director's quality of life outside of work and contributes to their overall morale. Even the greatest medical director in history won't succeed in a community or clinical setting that is not a good match for their skillset and lifestyle preferences. 
Highlight Unique Benefits: Prepare to share the unique opportunities that will come with the role. For example, at a smaller rural site the Medical Director may have a larger opportunity to sit at the bedside with patients and have meaningful encounters with patients and their families.
"Remember, healthcare is local. When determining whether a candidate is a good fit for a particular facility, get to know where a candidate is from, and where they want to go. Every hospital has unique attractions."

Jeffery A. Schwartz, MD, FACEP, Executive Vice President Clinical Operations, Concord Medical Group
Setting Expectations for the Role: Prepare an overview of what the Medical Director is responsible for handling. The best-and-brightest clinical leaders strike a delicate balance, juggling the occasionally conflicting and often-evolving priorities of patients, providers, hospitals, and physician groups. Setting expectations during the recruitment process ensures you find a candidate who understands the breadth of their responsibility and impact.
Involving Key Stakeholders: The preferences of hospital leaders, current team members, and nursing staff should be considered during the Medical Director hiring process. Consider taking time to not only check in with a candidate's references, but also with staff nurses at programs they worked with in the past. Doing so gives you a window into how a Medical Director carries themselves day-to-day in a way a more formal reference may not.
2. Prioritize Mindset and Culture Fit
Medical Directors need operational and clinical skills to succeed, but attitude and culture-fit remain leading criteria in our selection process. A Medical Director's mindset and fit within your hospital and physician group culture has a measurable impact on their effectiveness.
Over the years, we have identified five essential categories we look for in Medical Directors:
Ownership Philosophy: Great directors have a sense of ownership in everything they do. The phrase "that's not in my job description" is not in their vocabulary. They look at what needs to be done, and they do it.
"For example, let's say you own a local restaurant. When you own it, you make it work. Maybe you walk in and there's trash on the floor. Even though it's not your job, you bend over and pick it up because it's your restaurant. When the cook calls in sick, you might have to jump in the kitchen. That's the type of ownership we want our Medical Directors to have in their practice. Our leaders own it and make it work."

Jeffery A. Schwartz, MD, FACEP, Executive Vice President Clinical Operations, Concord Medical Group
Servant Leader Mentality: The most effective leaders adopt a servant mentality. In short, they exist to serve, not be served. They focus on what they can do to help their team, the patients they care for, and your hospital.
Trustworthiness: A large portion of a Medical Director's job is communication. They serve as a liaison between their teams, hospital leadership, physician group leadership, and other key stakeholders. As such, it is critical that they be impeccable with their word, forthright, and consistently honest.
"Medical Directors need to be able to build bridges. Sure, they need to be a great clinician, but beyond that, they have to drive communication between nursing, medical staff, and hospital administration. They are expected to do what it takes to make the department successful. Often, their influence extends well-beyond the emergency department itself."

Jeffery A. Schwartz, MD, FACEP, Executive Vice President Clinical Operations, Concord Medical Group
Humility: Medical Directors who have the ability to admit when they do not know something thrive. This ability enables them to be transparent with their provider team and the larger hospital team. Our top performing directors have a high level of humility. They view adversity as an opportunity to learn rather than a threat to their ego.
Sense of Calm and Urgency: Every medical professional is familiar with a healthy sense of urgency. Our strongest leaders are adept at balancing the ability to remain calm while communicating urgency in acute situations.
3. Invest in Engaging and Supporting your Leaders
Identifying and recruiting a Medical Director who is a culture fit and has a strong mindset are prudent first steps. Supporting and retaining that leader makes the difference between a stable thriving team and a rocky team dynamic. We suggest supporting Medical Directors with ample administrative resources, experienced clinical mentors, and ongoing education. Develop a leadership support system that keeps Medical Directors informed, engaged, and empowered to evolve and lead. The following are the three pillars that drive our Medical Director support and retention program:
Highly Engaged Regional Mentors: Ensure your Medical Directors have the ear of an experienced clinical leader. We recommend that a mentor with extensive clinical and administrative leadership experience check in regularly with Medical Directors to discuss recent challenges. When Medical Directors know they have access to a trusted mentor who can offer advice on clinical and operational questions as they arise, they feel supported and empowered. In addition to being available for a phone call as needed and checking in regularly, attending staff meetings in-person goes a long way to show support for your leaders and engagement in the success of their department.
"The most important job I have is to be sure that patients receive quality care in an efficient manner, with excellent customer service. If we are missing any of those three prongs, we are failing our patients. My goal is to have doctors who lead in the department, who provide quality care, and who do so efficiently, keeping patients happy and satisfied."

John Jones, MD Regional Medical Director at Concord Medical Group
Regular Transparent Data and Performance Review: Equipping Medical Directors with transparent data allows them to take intelligent action to improve departmental performance. We suggest providing Medical Directors thorough reports on items like throughput, chart flow, documentation, and admissions processes. In addition to providing the data, we make it part of our regional leaders check-in process to review charts and identify areas for improvement. It is important to instill a sense of accountability, while empowering Medical Directors to make decisions at the local level. Our regional leaders regularly collaborate with onsite directors around quality concerns and suggested actions. This helps Medical Directors to feel empowered to act on information one-on-one with their providers.
Regular Knowledge Sharing and Education: Knowledge sharing is a powerful tool. We suggest providing regular peer-to-peer networking opportunities among Medical Directors to share common issues and discuss innovative solutions. We hold an annual Medical Director Leadership Conference featuring educational sessions on both clinical and leadership best practices. This type of environment is a prime opportunity for clinical leaders to collaborate and learn from one another.
Conclusion
Identifying and supporting a medical director who will drive patient care quality, hospital performance, and positive team culture hinges on cultural fit and ongoing mentorship. The Medical Director role is complex and requires an expert clinician, communicator, and above all—a passionate sense of ownership. When you have a candidate with these traits and support them with administrative and clinical advice, opportunities to learn and grow, and transparent data, you've set the stage for an extraordinary clinical leader to thrive. At Concord, our history of providing exceptional medical directors has played a key role in the many long-term partnerships we've held with healthcare facilities nationwide.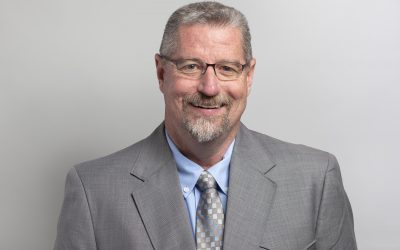 Concord Medical Group is extremely excited to announce that John Jones, MD has accepted the role of Chief Medical Officer of Emergency Medicine.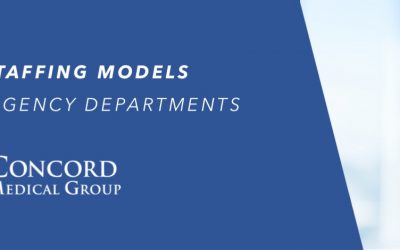 Exceptional Medical Directors are a not-so-secret sauce that power any well-oiled clinical program. They are a unique breed; equal parts clinical stand-out, skillful communicator, strategic thinker, and thoughtful mentor. At Concord, Medical Directors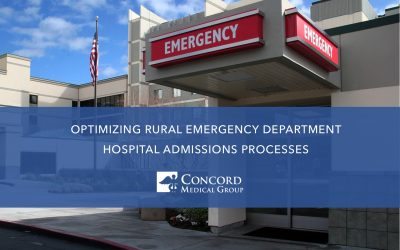 Rural hospitals are economic anchors in their communities and often the only source of local, timely health care. Optimizing the hospital admissions processes in rural emergency departments is an impactful way to sustainably support rural patient care needs and the economic viability of rural hospitals.
Be a leader in patient care.
Office Locations:
2800 corporate Dr.
Suite 103
Flower Mound, TX 75028
1602 Ave Q
Lubbock, TX 79401
333 Cedar Street Suite #200 Abilene TX, 79601