Creative Staffing Models for Rural Emergency Departments  
Staffing an emergency department with the right providers is essential to deliver high quality care and keep costs under control. This delicate balance is especially important in lower volume or rural emergency departments in which a staffing model may make or break that department's ability operate sustainably. Over the past 20 years, Concord has worked collaboratively with many rural hospitals across the US to design unique staffing solutions to help them provide high quality care to their communities and remain financially healthy. At a time when many hospitals face a high risk of closure due to financial challenges, we have found that creative and custom staffing models are essential to driving care quality and boosting financial health in rural, low-volume emergency departments.   
Advanced Practice Provider (APP) Coverage 
As states expand APP's scope of practice, more emergency departments are utilizing APPs. In larger volume EDs, APPs (including nurse practitioners and physician assistants) are a vital part of safe, efficient care on a physician-led team. In some cases, states allow APPs to practice independently. In these very low volume, low-acuity sites, independent APP emergency department coverage is an efficient, cost-effective and safe option for the community.  
"From a recruiting perspective, since there may be an abundance of APPs, it can be more accessible to some rural facilities to recruit a locally-rooted APP than a physician. This helps achieve consistency, continuity, and stability in rural programs," said Ashlie Boazman, Chief Operating Officer at Concord Medical Group.  
We always work closely with clinical leadership to determine appropriate usage of APPs and ensure our APPs are supported by physician leaders and provided sufficient emergency medicine training. Since APP compensation is more cost efficient, maximizing usage of APPs provides financial savings at facilities that do not require physician coverage.  
Hybrid Emergency Department and Inpatient Management  
In many very low volume or critical access hospitals, when volume and acuity allow, a single emergency medicine-trained provider can cover the emergency room as well as serve as the hospitalist for inpatient patients. In this model, an internal medicine or family practice physician or APP with emergency medicine experience will complete inpatient rounds when the emergency department is not busy. In some cases, the hybrid program only operates on the weekend, enabling local primary care providers to take the weekend off.  
"This model gives hospitals the ability to have ER and hospitalist coverage for the price of one provider, which is very cost effective. It drives efficiency and helps local medical staff focus on their clinic" said Boazman.  
In addition to the financial savings of having one provider rather than two, this model often provides the patient with a single provider from the ED through the admission process, improving patient experience. This also enables the hybrid provider to streamline admission criteria and boost hospital volume through maximized appropriate admissions.  
"It can increase hospital admissions due to the fact that there is no conflict about who should be admitted. It is one provider making the best decision for the patient" said Boazman.  
Telemedicine Support  
Telemedicine is a powerful tool in emergency medicine and expands care access to underserved rural communities. Telemedicine innovations expand access to specialist care for rural communities, support hospital and community medical providers, and increase hospital patient volume by boosting the number of patients the hospital can serve locally.  
COVID-19 catalyzed telemedicine utilization by providers and patients alike. Rural hospitals can benefit from retaining a lot of the COVID-necessary telemedicine precautions such as telemedicine patient screening. During COVID-19, we quickly prepared a telehealth program that enabled physicians to screen patients from another room in the hospital to reduce risk to the patient and provider. These programs were initially implemented with a provider in another room of the hospital. They were soon expanded in many of our partner facilities to allow for televisits with providers off site. 
"Many community members that our hospital partners serve are elderly, don't have transportation, or don't have a family member who can take them to a transfer site. We strive to keep patients local. Reducing patient transfers leads to better outcomes and better patient experience, and telemedicine helps us achieve that" said Boazman.  
We leverage both the telenocturnist and telehospitalist model at some of our partner sites. Our telenocturnists provide pulmonology and critical care consultations at night, eliminating the need to have a doctor on site overnight. The telehospitalist provides virtual internal medicine consultations to reduce the need to transfer patients. In addition, we provide telemedicine support for nursing homes and family practice providers to eliminate the need to transport high risk patients.  
"For example, if an elderly patient has severe pneumonia, with telemedicine, we no longer have to transfer them to an outside center with pulmonology and critical care. Instead, our ED doctor can admit the patient, and our HM doctor can consult with a specialist via telemedicine while the patient avoids traveling in a high-risk condition," said Boazman.  
Conclusion 
Not every model is right for every facility. We work collaboratively with our partners to determine the best fit for the community. When designing a staffing model for a rural emergency department, keeping a keen eye on the community's care needs and the financial reality of the hospital is paramount. Staffing a small team requires creativity, flexibility, and a strong ability to act quickly when unexpected patient influxes or staff changes arise. In our experience, creative staffing models like APP coverage, hybrid coverage, and telemedicine support are proving to become more and more essential to low volume rural emergency departments.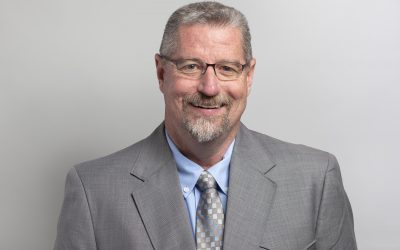 Concord Medical Group is extremely excited to announce that John Jones, MD has accepted the role of Chief Medical Officer of Emergency Medicine.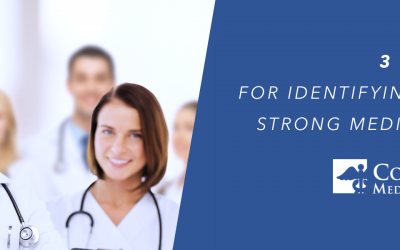 Exceptional Medical Directors are a not-so-secret sauce that power any well-oiled clinical program. They are a unique breed; equal parts clinical stand-out, skillful communicator, strategic thinker, and thoughtful mentor. At Concord, Medical Directors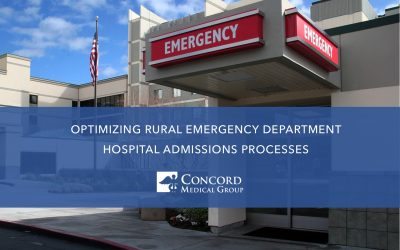 Rural hospitals are economic anchors in their communities and often the only source of local, timely health care. Optimizing the hospital admissions processes in rural emergency departments is an impactful way to sustainably support rural patient care needs and the economic viability of rural hospitals.
Be a leader in patient care.
Office Locations:
2800 corporate Dr.
Suite 103
Flower Mound, TX 75028
1602 Ave Q
Lubbock, TX 79401
333 Cedar Street Suite #200 Abilene TX, 79601