At Concord Medical Group (CMG), we believe in quality, which is why we are the leading hospitalist and emergency medicine staffing company in multiple states across the country. Since 2001, our experience and knowledge have given us the tools to help our clients be the premier patient care facility in their region. How can we do the same for you? We'll not only strategically provide you with board-certified physicians, but also tailor our services to best fit your needs, while meeting your goals.
What You Can Expect From Our Team
We are always proactive in our pursuit of excellence. Our management and regional medical directors will work together to ensure we are providing you and your patients high-quality customer service.
Benefits of working with CMG:
We are quick to respond to your facility's needs.
We are available 24 hours a day, seven days a week.
We can schedule on an on-call basis.
We make on-site visits to meet with your administration and staff
We will attend your community events, board meetings, and other activities.
Contract Models
We offer comprehensive hospitalist staffing and emergency room services under three contract models:
Contracted long-term staffing and administration. CMG is paid by hospitals on an hourly basis for EM services; hospital obtains third party reimbursement.
Contracted short term or temporary staffing when the hospital is understaffed (referred to as "locum tenens").
Fee-for-service long-term staffing and management in which CMG bills third-party payers for EM services provided.
Physician Recruitment
We recruit and retain high quality and like-minded physicians that are dedicated to maintaining and contributing to each facility's culture. Here's our method of recruitment:
Attending physician association and continuing education conferences
Sponsoring residency programs events
Meeting with physicians face-to-face
Contacting physicians who have experience working in similar environments
Performing a mandatory evaluation
Services
Further cementing our reputation of matchless service to our clients, we:
Guarantee that our physicians will be available for on-call coverage and provide full-time physician services.
Make sure all practicing physicians who provide medical services for CMG must obtain clinical privileges and medical staff appointments at the hospital.
Supervise clinical performance and quality of care by the non-physician staff, as specifically directed by the hospital.
Provide malpractice liability coverage insurance for CMG and our physicians in amounts no less than $200,000 / $600,000.
Are responsible for invoicing and the collection of fees attributed to the physician services provided.
Invoicing
Because of our dedication to honesty and accuracy, with our invoicing procedures we:
Provide sign-in sheets for each facility to confirm who worked during each shift
Annotate any deviations from the schedule.
Provide any additional information you may need.
*Billing occurs monthly.
At Concord Medical Group, we realize that if you aren't successful, we aren't either. Therefore we understand the importance for a collaborative effort. As you've learned, we can not only meet your hospital's needs, but also exceed them. From our personal and experienced staff to the way we do business, we are confident that we will provide quality hospitalists at your facility 24/7.
If you need more information, visit concordmedicalgroup.com or email: tpowell@concordmedicalgroup.com.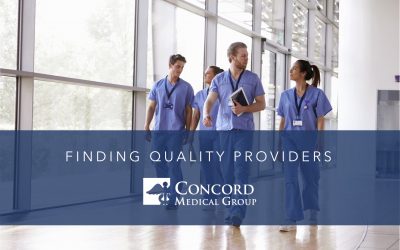 If you've been searching for someone with standards as high as yours, you've found us. Learn more about our hospital services to find out how we can get the ideal provider management solution for your needs.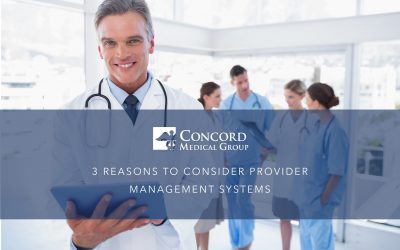 Provider management systems can help improve resources, offer better value to your patients, and streamline your operating costs, all with the help of a professional team like Concord. Curious to find out whether provider management is right for your facility? We'll tell you the top 3 benefits.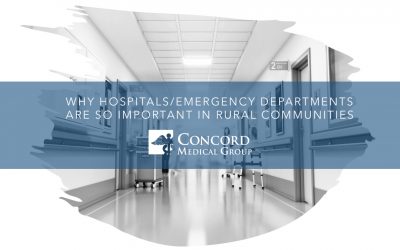 Are you a healthcare provider who's interested in exploring opportunities in a rural area? Did you know that rural Americans make up 15% to 20% of the U.S. population? These people face daily inequalities in health care compared to urban and suburban citizens. Rural hospitals/emergency departments are a critical component of communities across rural America because of their significant contributions beyond healthcare.
Be a leader in patient care.